Great news ! You can now purchase reload pins and pay utility bills at any 24 Xpress Penang 😃
Payments for Touch n' Go reloads, telco top ups, utility bill payments, and e-wallet pin top ups are enabled by Razer Merchant Services💁🏻
Available at our 16 outlet nearest you ! 😃
We are open daily 🧐
#24xpressconveniencestore #RazerMerchantServices #Razer #paymentgateway #offlinepayment
Yes! Great news for Penang Islanders!
Looking for an upgrade on your older devices? How about getting Unlimited Data for Your Smartphone with Maxis Fibre ?
Come and walk in to your nearest @24Xpress for more info
OR
Whatsapp us now!
Kim https://wa.me/60164117724
Des https://wa.me/60174619234
Naz https://wa.me/601111415378
*Subject to terms and conditions
#24xpressconveniencestore #Maxis​ #Hotlink
保留马铃薯自然风味,入口香浓,纤薄酥脆大满足😍😍
Retain the natural flavor of potato, the taste is fragrant, thin and crispy and satisfying😍😍
一口就停不下来,还原你爱的经典美味🤩🤩
You can't stop after one bite, and restore the classic delicacy you love🤩🤩
4种口味随你挑✌️✌️
You can choose from 4 flavors ✌️✌️
经典原味 Classic Original✔️
番茄味 Tomato✔️
烧烤味 Bbq✔️
黄瓜味 Cucumber ✔️
📌只有在 @24Xpress Mart (Gurney Walk ) 👉https://goo.gl/maps/86ArdaJmVyWs535e7
📌Available only @24Xpress Mart (Gurney Walk ) 👉 https://goo.gl/maps/86ArdaJmVyWs535e7
——————————
Remember to like us & Follow more promotions :
Instagram: @24xpress_convenience _store
Website: https://24xpress.com.my
#24xpressconveniencestore #GurneyWalk #potatochips

Happiness is chill~in movie time with sweet caramel popcorn , oh yea~😍
Indiam Popcorn are now selling for only RM3 !! 😍Will be sure to make your day😍
Kia Kia , grab your favourites K-snacks , C-snacks and beverages at 24Xpress today!
*Available at our 16 outlets nearest you!👍
*While stock last!! No limit purchase!!
#24xpressconveniencestore #conveniencestorepg #popcorn #sweetcaramel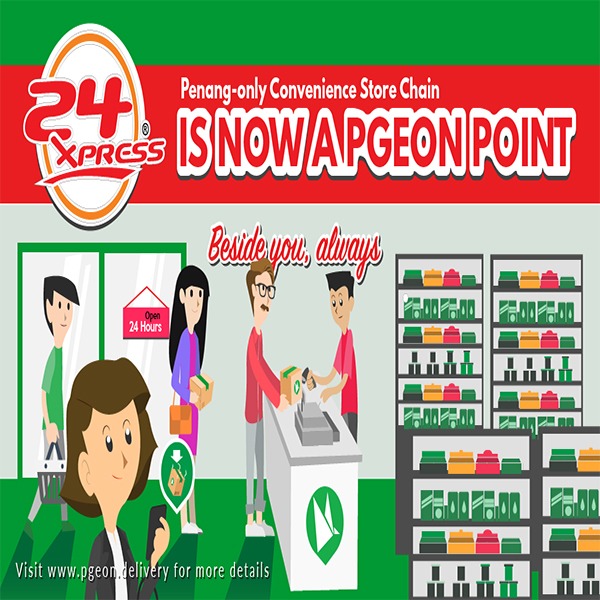 Attention Penangites!
Need to get a parcel delivered after office hours? Fret not, because your local 24-hour convenience store just became a Pgeon Point!
You wouldn't have to worry about rushing to go to the post office if you can't make it after work. Just drop off or pick up your parcels at any of our outlets at your leisure.
o what are you waiting for, get to Pgeon'ing today!
For more details, visit www.pgeon.delivery
Available at our 16 outlet nearest you !
6am to 11pm
#24xpressconveniencestore #pgeonpoint #penang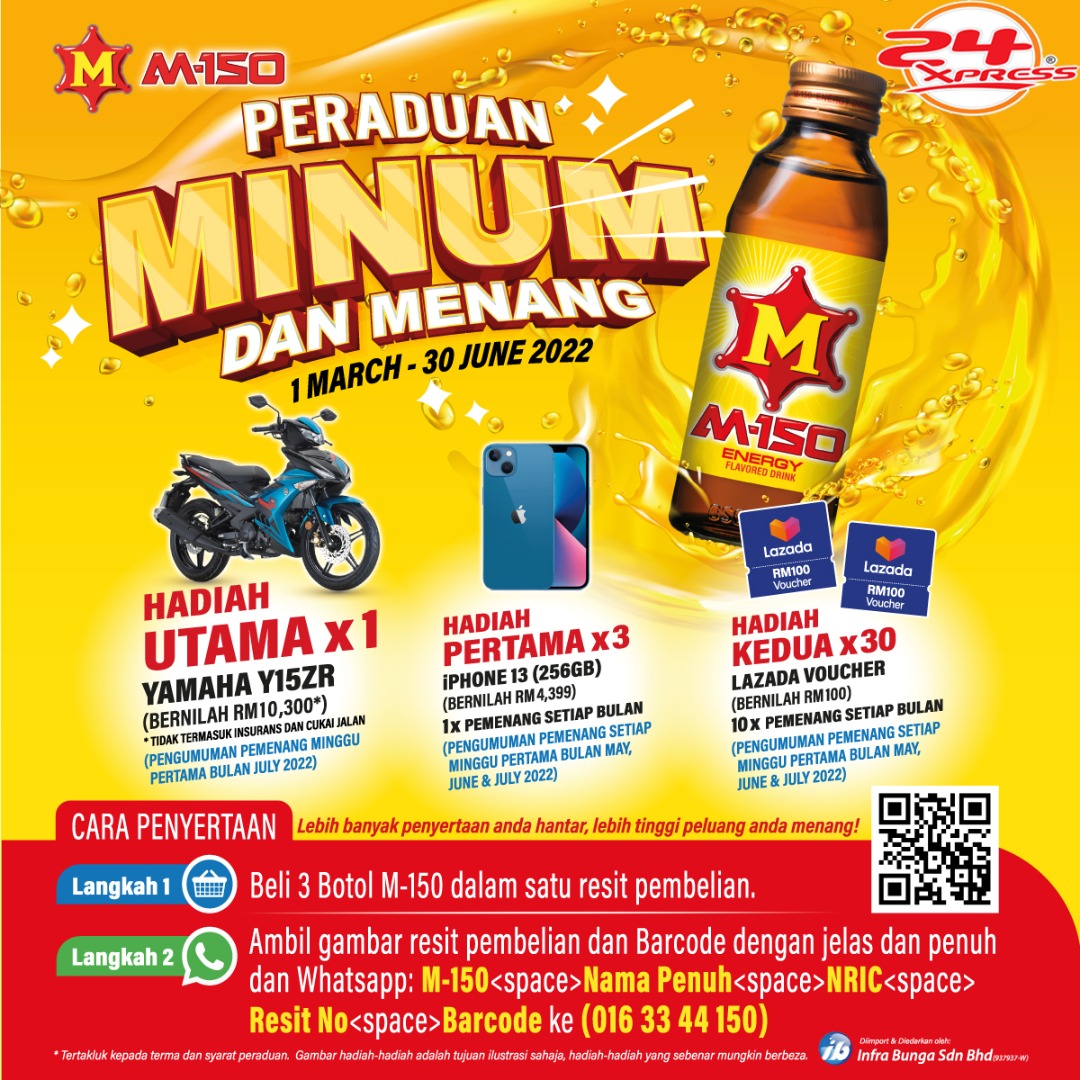 3 Bottles of M-150 Energy Drink is all it takes to win BIG.
𝐏𝐞𝐫𝐚𝐝𝐮𝐚𝐧 "𝐌𝐢𝐧𝐮𝐦 𝐝𝐚𝐧 𝐌𝐞𝐧𝐚𝐧𝐠" 𝐝𝐞𝐧𝐠𝐚𝐧 𝐌𝐢𝐧𝐮𝐦𝐚𝐧 𝐓𝐞𝐧𝐚𝐠𝐚 𝐌-𝟏𝟓𝟎!
Stand a chance to bring home the grand prize of a new Yamaha Y15ZR, along with amazing monthly prizes worth more than RM16,000!
To participate, simply:
1. 𝐏𝐮𝐫𝐜𝐡𝐚𝐬𝐞 𝟑 𝐁𝐨𝐭𝐭𝐥𝐞𝐬 of M-150 Energy Drink 150ml on a single receipt for one (1) entry
2. 𝐖𝐡𝐚𝐭𝐬𝐀𝐩𝐩 to 𝟎𝟏𝟔 𝟑𝟑 𝟒𝟒 𝟏𝟓𝟎
– the 𝐑𝐞𝐜𝐞𝐢𝐩𝐭 𝐏𝐡𝐨𝐭𝐨 and 𝐁𝐚𝐫𝐜𝐨𝐝𝐞 of M-150 bottle; and
– list down 𝐌-𝟏𝟓𝟎<𝐬𝐩𝐚𝐜𝐞>𝐅𝐮𝐥𝐥 𝐍𝐚𝐦𝐞<𝐬𝐩𝐚𝐜𝐞>𝐈𝐂 𝐍𝐮𝐦𝐛𝐞𝐫<𝐬𝐩𝐚𝐜𝐞>𝐑𝐞𝐜𝐞𝐢𝐩𝐭#<𝐬𝐩𝐚𝐜𝐞>𝐁𝐚𝐫𝐜𝐨𝐝𝐞
Join now and you just might be one of our lucky monthly winners.
The contest runs from now till 30 June 2022, T&Cs apply
—————
Now available in 24Xpress nearest you
We are open 6am – 12am daily
#M150MY #M150Malaysia #M150MinumdanMenang #LifeHasNoLimit #KehidupanTanpaBatasan #24xpressconveniencestore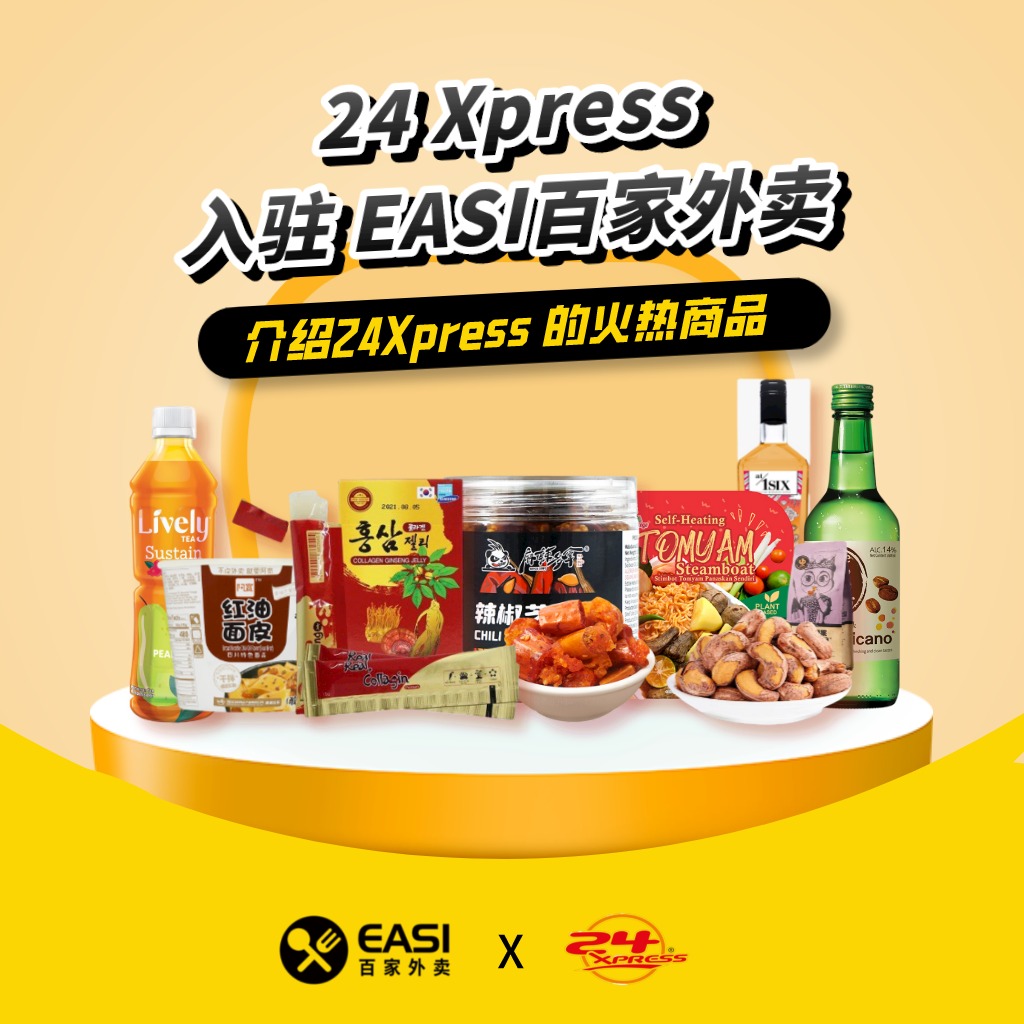 【24 XPRESS 𝘅 EASI】
What an amazing news! 24 Xpress added more convenience for you
好消息! 24 Xpress 为您添加更方便的外送服务
You may now order your essential items & foods from 24 XPRESS via @EASI mobile app.
您现在可以通过@EASI 百家外卖移动应用程序从 24 XPRESS 订购您的必需品和食物。
So what are you waiting for, just order from EASI!
还等什么,赶快下单,让EASI送货上门吧!
#24xpressconveniecestore #ThanksForStayingHome #StaySafe #EASI #Macallum #PerakRoad #PenangRoad2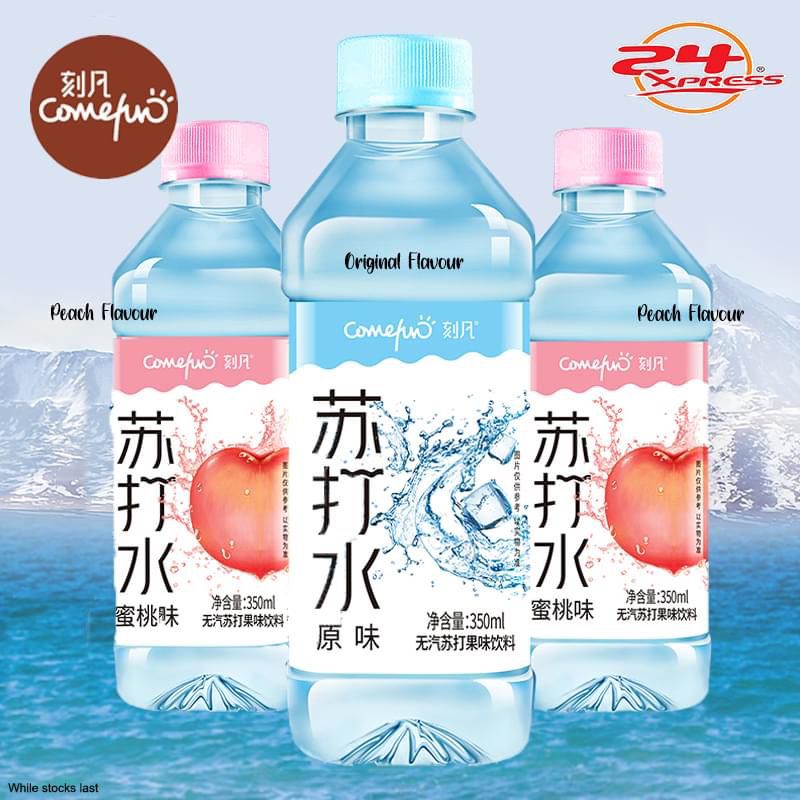 COMEFUN SODA sparkling water chilled with ice , it's very good.
🤫
all the way from China is here to cheer your day! Now added to 24 Xpress !
🤩
It's a perfect match for summer meals, there are :
– COMEFUN SODA Peach Flavour
– COMEFUN SODA Original Flavour
😍
What are you waiting for, pick them up now at our selected 24 Xpress !
Our Shop : https://linktr.ee/24xpressconveniencestore
*While stocks last
#24xpressconveniencestore #comefunsoda #sodadrink #macallum #tanjungbungah #macalister #penangroad2 #nagore #relau #perakroad #farlim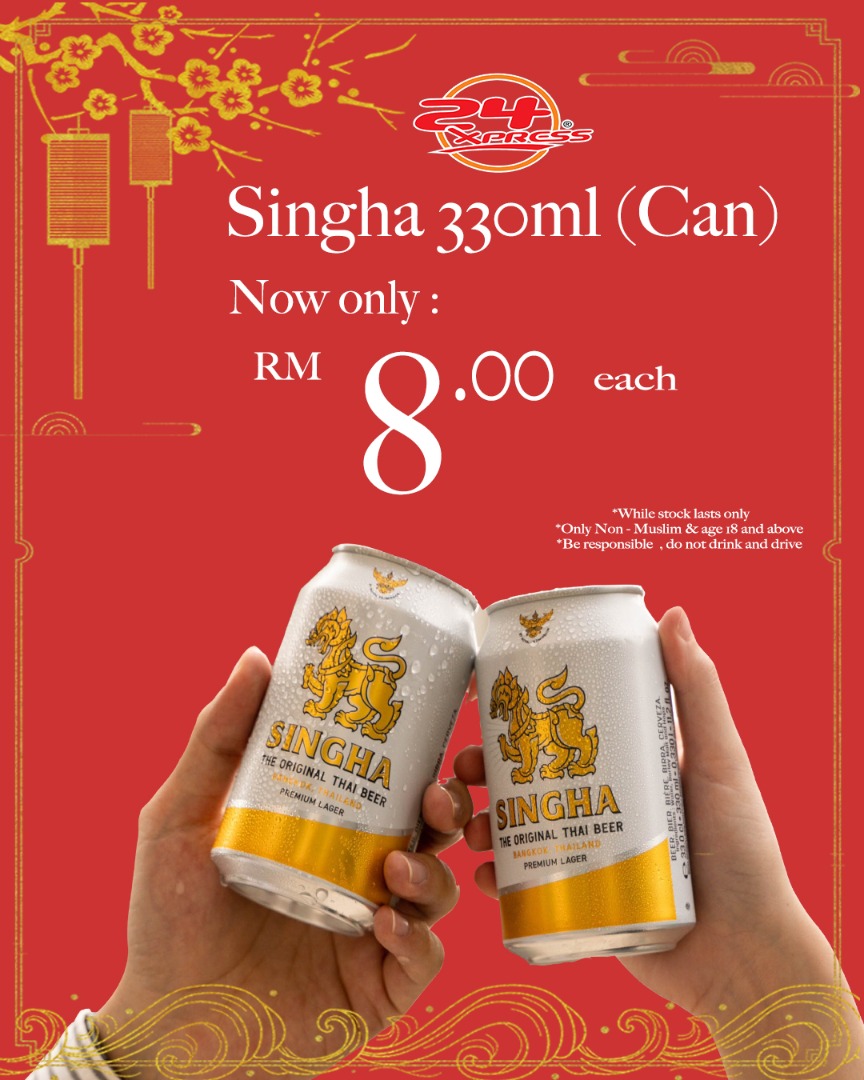 Calling for all Singha lovers ! Cheer with the goodness of beer !
Get it now at 24 Xpress nearest you !
*While stock lasts only
*Dont drink & drive
#24xpressconveniencestore #singhabeer #singha #beer
Our Covid-19 Antigen Test Kits come with 2-1 function (Saliva / Sputum Swab).
You may opt to use either 1 of method above at your convenient.
User just need to follow through simple steps as below to obtain the test results within 15 mins at your home.
Come get it at 24Xpress Convenience Store now !
#24xpressconveniecestore #newgene #genfarm #covid19selftest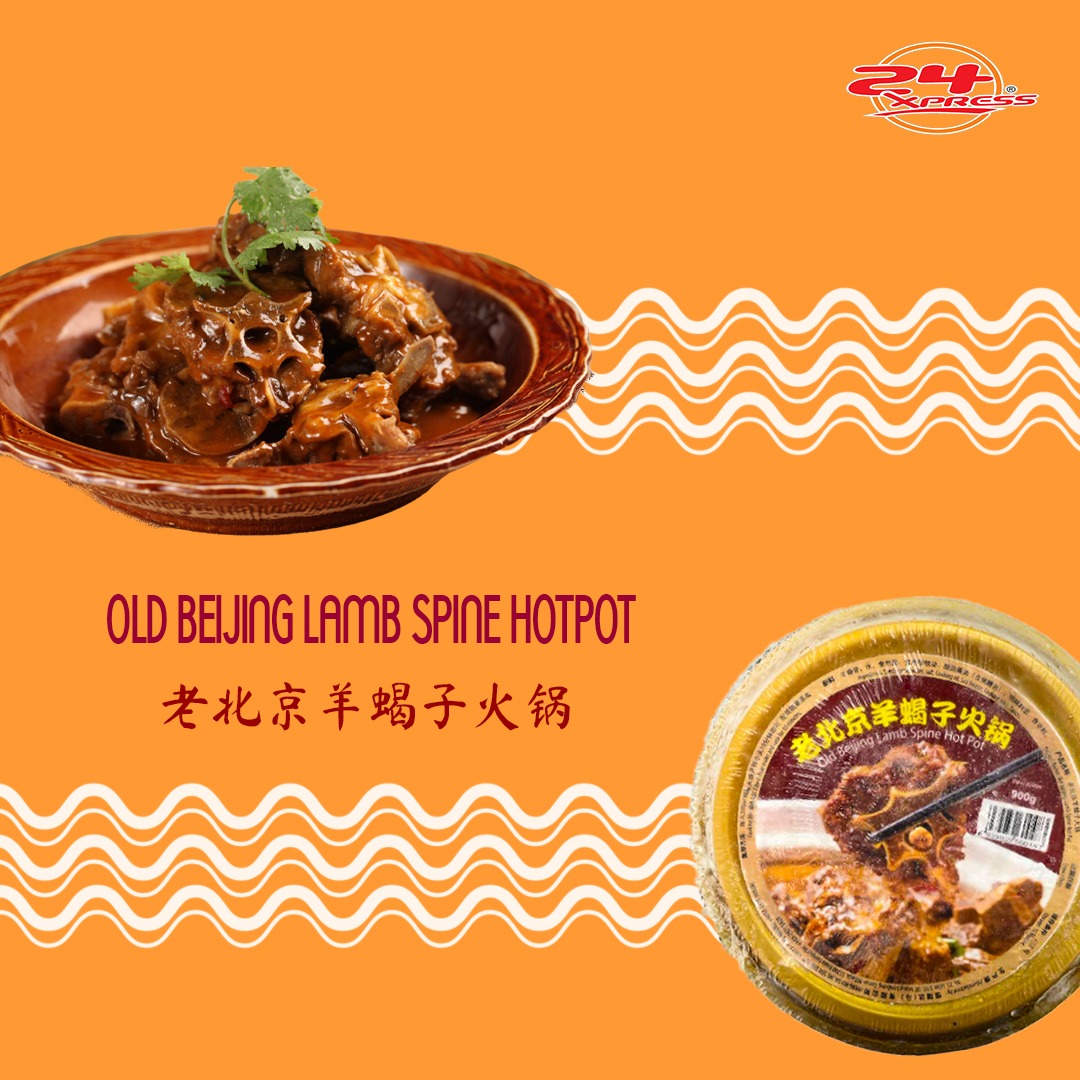 Have you tried the famous Lamb Spine Hotpot from Beijing (老北京羊蝎子火锅 )? We already stock it for you ~
Try the hot pot from home in this Chinese New Year while gathering with family and friend
Come get it from 24 Xpress nearest you now while stocks last
#24xpressconviencestore #老北京羊蝎子火锅 #oldbeijing #lambspine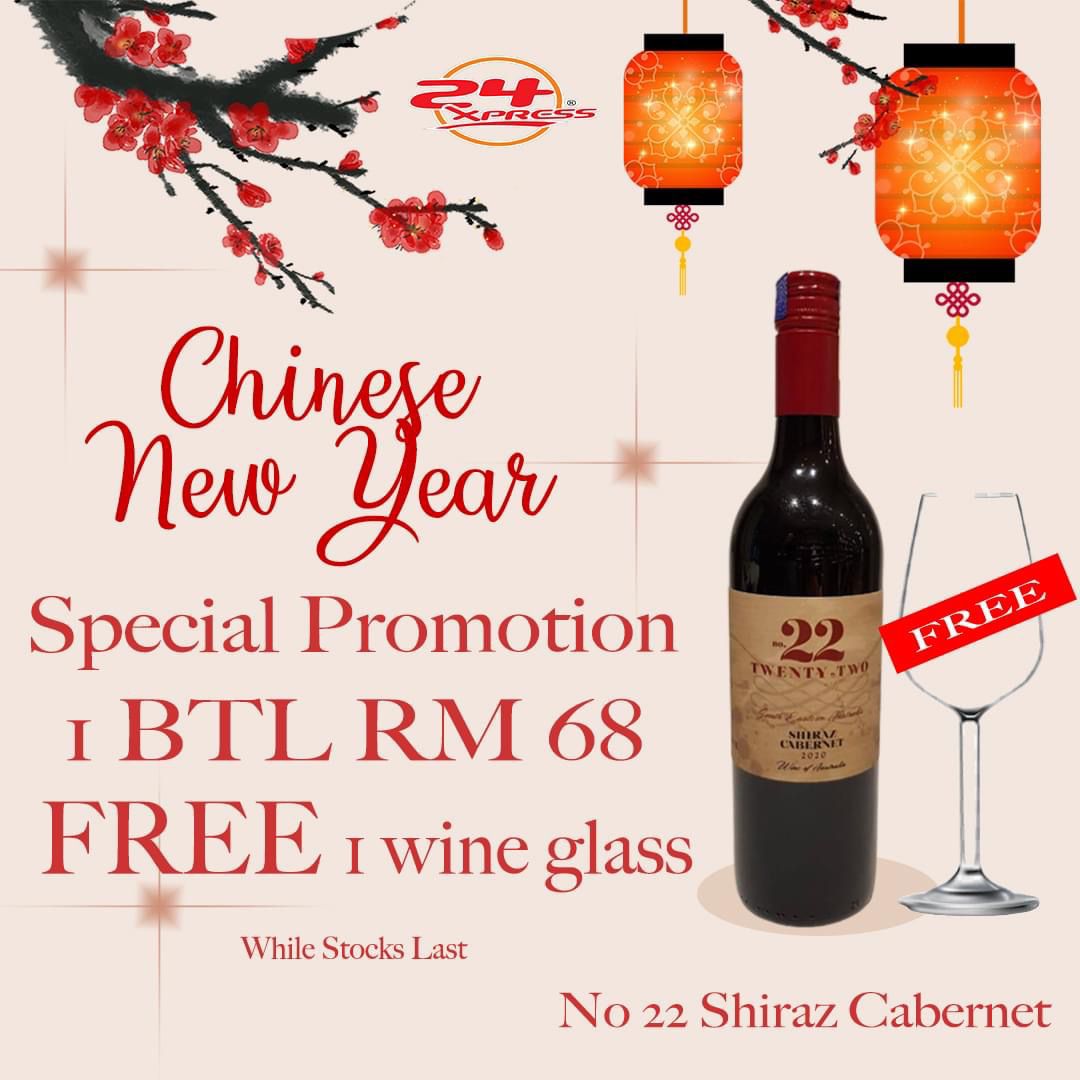 Dear Wine Lovers, 🍸
Special Promotion for Chinese New Year – 1 bottle RM 68 ONLY and FREE 1 wine glass !!
Grab it now. Offer valid while stocks last😃
Visit our 24 Xpress nearest you !
#24xpressconveniencestore #wine #22twentytwo #shirazcabernet #malaysia #alcoholicbeverages
24 Xpress x Shopee Pay come with voucher for RM0.01 ONLY !
Hurry up go Shopee App to grab the voucher while stocks last!
Promotion period : 16/1/2022 – 15/2/2022
The promotion option as below :
~ 24 Xpress mineral water 1500ml x 6 bottles
~ Chimdoo heat & quick rice box
~ The three squirrels peanut & dried strawberry
~ Lively Tea
*T&C Apply.
———
Below picture Step by Step how to buy and claim the voucher !
24 Xpress bed you , always
#24xpressconveniencestore
#threesquirrels
#24xpressmineralwater
#ricebox
#shopeepay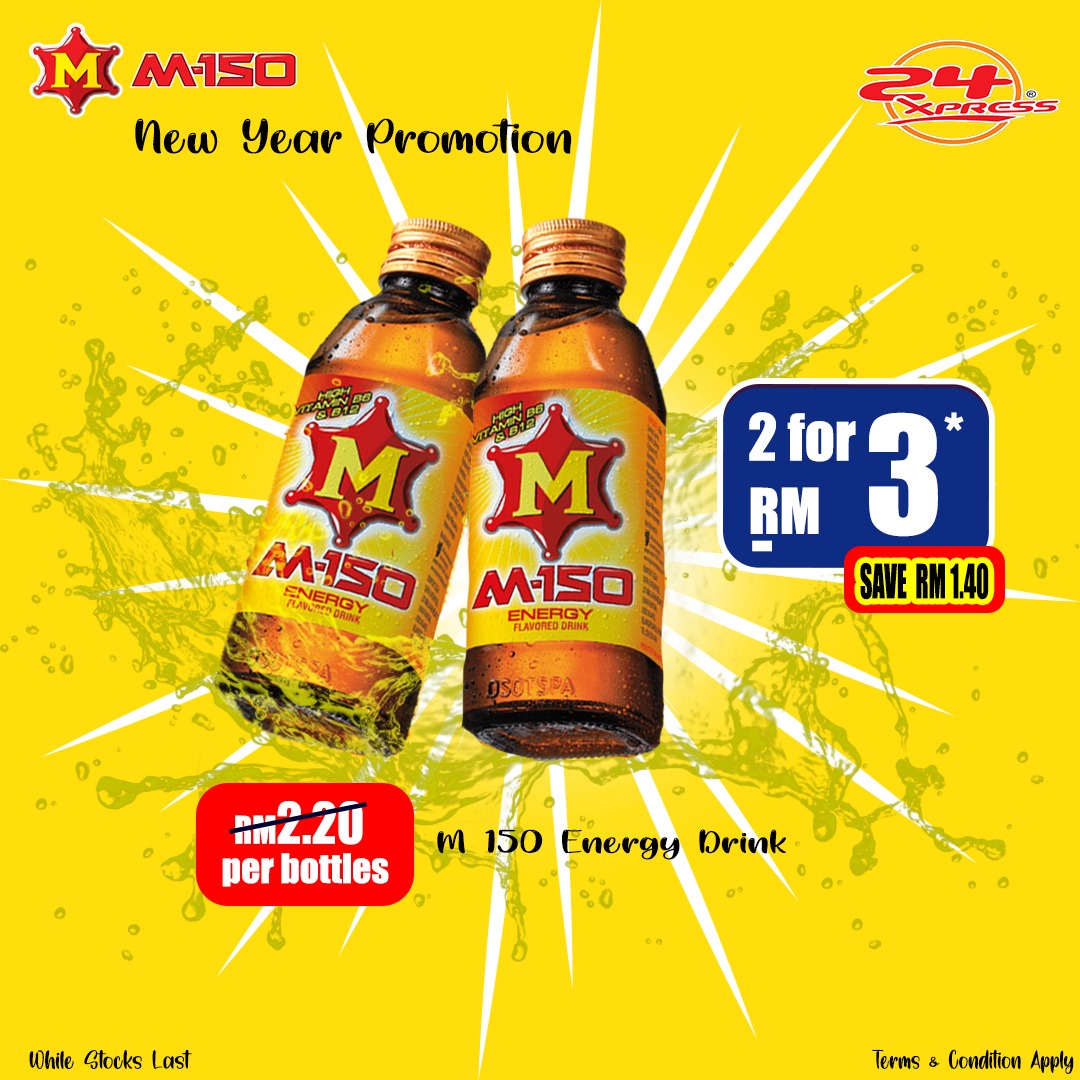 New Year , New Energy
Fixed your thirst and recharge with M-150 Energy Drinks
Now available in 24Xpress nearest you
We are open 6am – 12am daily
#24xpressconveniencesotre #newyear #energydrink #M150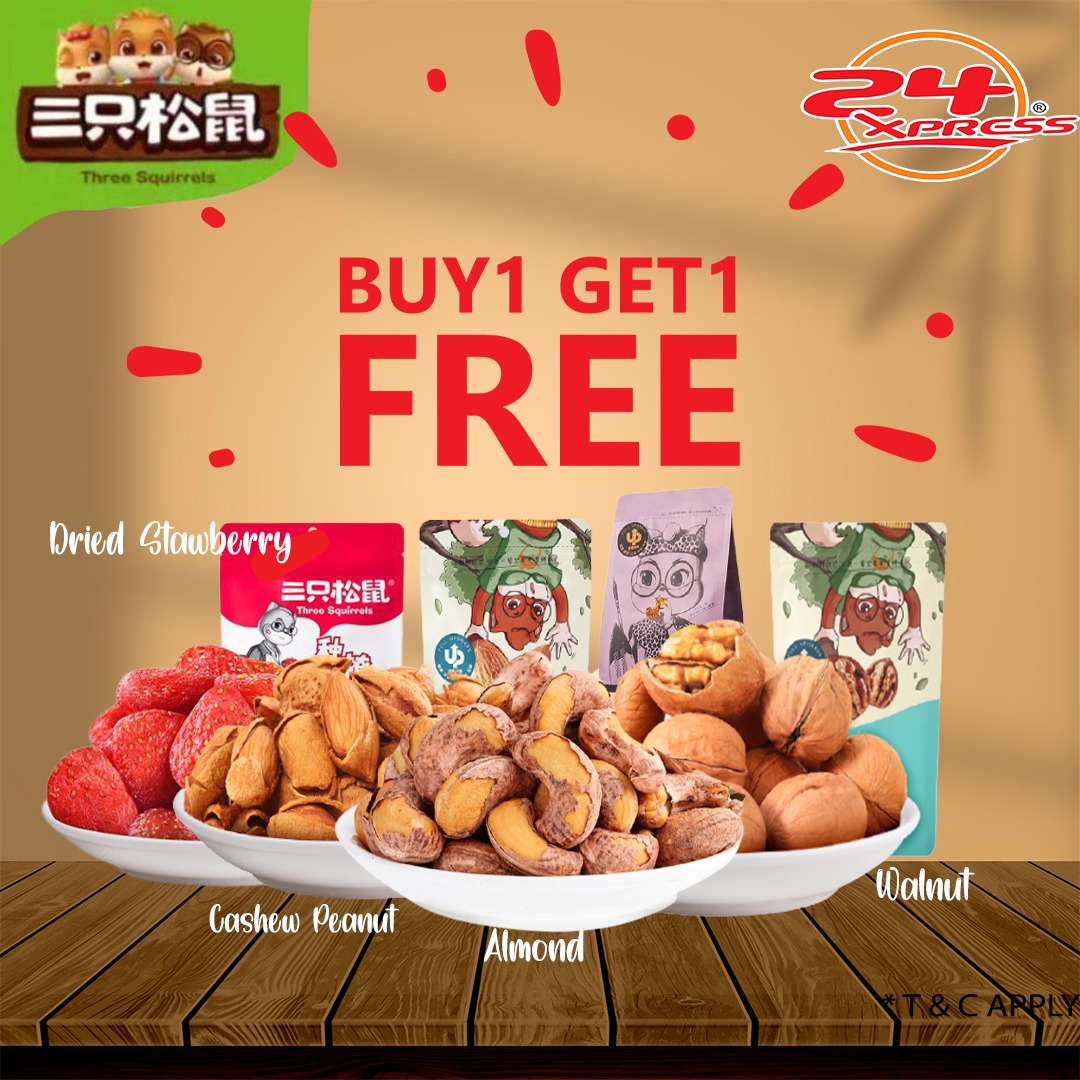 Who doesn't love free stuff? Get together with your friend and enjoy buy 1 free 1 deal on our hot snacks! Redeem it now at 24 Xpress nearest you
Terms & Conditions apply.
#24xpressconveniencestore #snack #threebrothersquirrel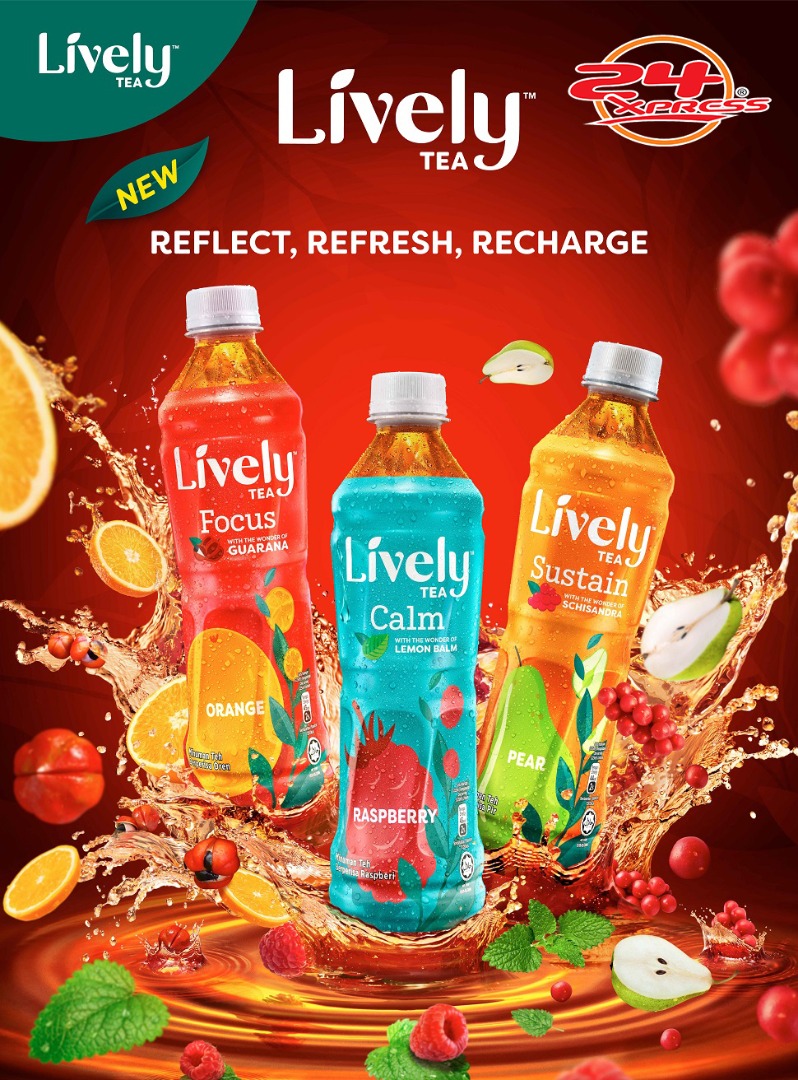 We've got something exciting in 24Xpress for you !
Stay Focus , Calm , and Sustain with LIVELY Tea !
LIVELY Tea comes in 3 delicious packed flavors :
Grab a bottle today and experience it today !
Now available on 24Xpress near you !
#24xpressconveniecestore #LIVELYTEA #flavors #stayfocuscalmsustain
Tomorrow is the day of open school, kids must wear a mask to school to prevent covid 19 !! Don't worry 😷😷
KF94 kids mask are ready on 24 Xpress, Get them now at your nearest 24 Xpress.
😷 Kid Mask is suitable for below 12yrs old
😷 Powerful Prevention With Four-Layer Filters
😷 BFE 95%,PFE 94%-95%
😷 100% Made In Korea
——————————————
*While stocks last.
#24xpressconveniencestore #KF94mask #StaySafe
At this COVID-19 season, Face-Mask is one of the basic necessities for us in our daily lives. Of course a breathability & a quality facemask is our top priority.
Ta~da , have you ever tried SAFETYWARE MALAYSIA's Face-Mask?
99% PFE & BFE
UV Sterilized after production (Before marketing)
Easy to breathe
Premium quality-Grade AAA. (Reduces acne or skin irritation, straps do not break easily)
Made in Malaysia (Safetyware) for more than 30 years producing safety products.
Get it now at nearest 24Xpress ! Problem Solved! 😷😷
Let's be happy, Try your lucky!
The happiest thing to do is to win big prizes with your friends , dont you agree?
We are pleased to announce that Big Sweep is now available at 24Xpress.
Get it now at your nearest 24Xpress!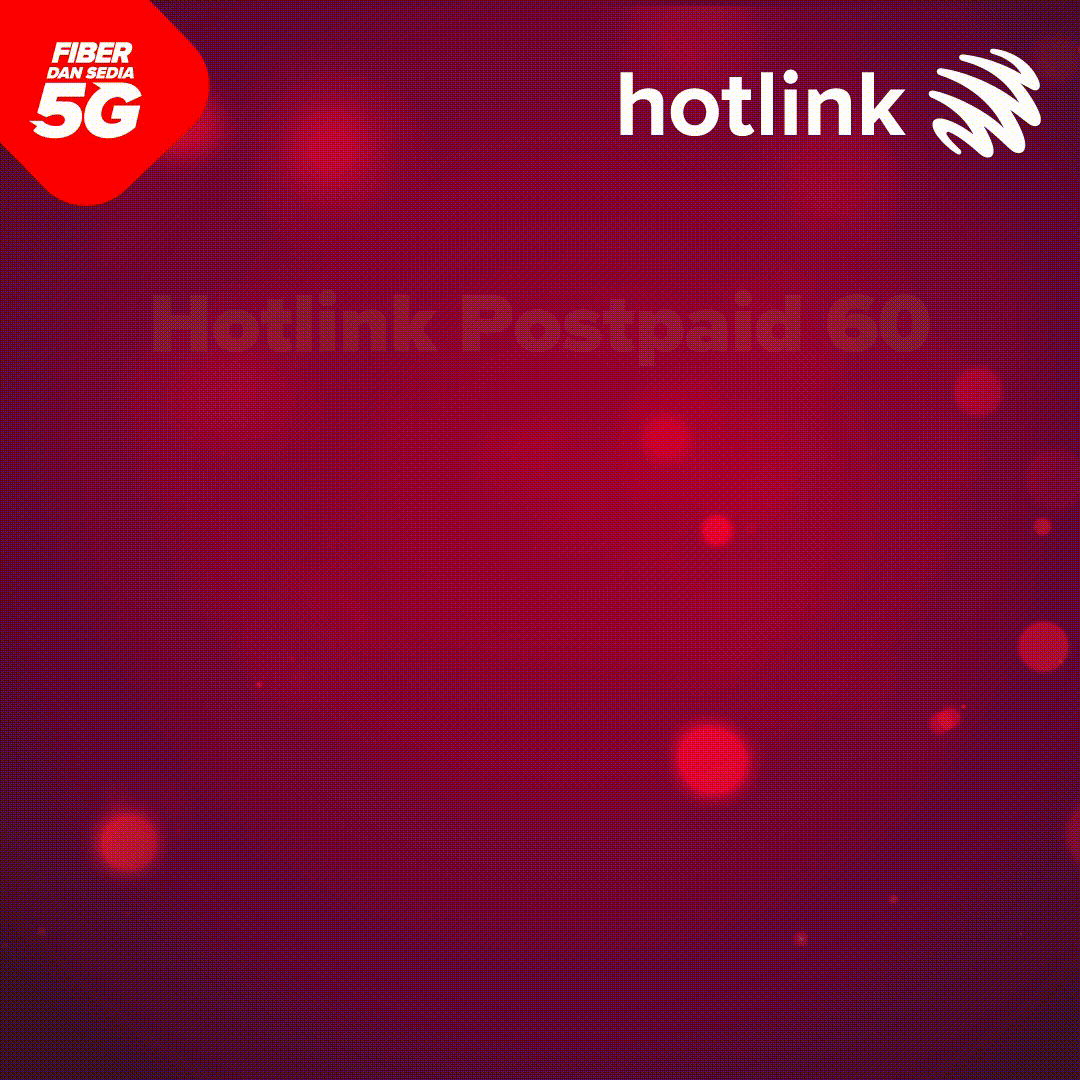 Pelan Hotlink Postpaid 60 baharu eksklusif untuk anda !
Pilih sekarang dengan internet berkelajuan tinggi 30GB !! Internet Pantas !! Jom Jimat sekarang !
Terdapat di kedai 24Xpress terdekat anda !!
📍 24Xpress Mart ( Perak Rd )https://goo.gl/maps/su9BqFPqYgze2zzs8
📍 24Xpress Mart ( Farlim )https://goo.gl/maps/mNp1htSbPQmqAZen6
📍 24Xpress Mart ( Relau )https://goo.gl/maps/ezMwfx3rZsqDvBQw7
📍24Xpress Mart ( Macallum )https://goo.gl/maps/W2DqyXTQGH1J9epT8
Telefon kami sekarang
📞 Kim or Priya 
📞 Des
📞 Putri 
📞 Naz or Lim
*Tertakluk kepada terma dan syarat.
#24xpressconveniencestore #Maxis​ #Hotlink